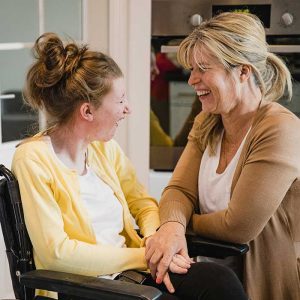 More than three quarters of carers are struggling with their mental health, according to a report from Carers UK.
The charity is calling for the government to develop a National Carers Strategy, make caring a protected characteristic and invest an additional £1.5 billion in carers' breaks.
The recommendations follow Carers UK's annual report into health, which found that more than three quarters (79%) of carers feel stressed or anxious, half (49%) feel depressed, and half (50%) feel lonely.
More than a quarter (27%) said that their mental health was bad or very bad. Of those, 39% said they were not receiving any support with their mental health and 73% were continuing to provide care even though they felt they were at breaking point.
Epilepsy Action is backing the recommendations. Director of health improvement and influencing Alison Fuller said: "Caring for someone with epilepsy can involve a multitude of responsibilities, varying from person to person, and while it can be hugely rewarding, being a carer can also be demanding.
"It is essential that moving forward, carers are better supported based on their individual needs and they have access to the services they need to improve health and wellbeing. We welcome the recommendations made by Carers UK, calling on the government, the NHS, and local and voluntary organisations to implement better systems and invest in additional funding to support our carers."
Across the UK, 5.7 million people are carers. Of those, 80% are female, and 29% have a disability of their own. 16% also have childcare responsibilities.
A 2021 ONS census for England and Wales found there had been an increase in the proportion of people caring for more hours.
Fuller added: "This study from Carers UK highlights that an alarming number of carers are struggling with their mental and physical health, and it is concerning to see this figure has risen significantly in the last year. Carers play an essential role in keeping families together, often working long, unpaid hours to look after their loved ones. It is unacceptable that so many of these people, who dedicate their time to caring for others, are falling through the cracks, unable to access the support they need."
Carers UK defines a carer as someone "who provides unpaid care and support to a family member, friend or neighbour who is disabled, has an illness or long-term condition, or who needs extra help as they grow older".
Of those surveyed, the charity said almost half (47%) cared for 90 hours a week or more. 82% of carers said the impact of caring on their physical and mental health would be a challenge over the coming year – an increase of 5% on last year.
The report said: "Many carers are uncertain about the future and anxious about the demands of their caring role, particularly if they are facing challenges such as carrying out clinical tasks, supporting the person they care for when they are discharged from hospital or managing caring alongside their own health conditions."
One anonymous carer in the report said: "I feel so physically worn out and old before my time at 49."
According to the charity, 54% said their physical health had suffered. It said: "There is a clear need for government to deliver more sustainable long-term planning for social care, including better funding, so that carers are more able to plan their futures."
The report added that carers needed more support from the NHS.
"Carers' experiences suggest that there are systemic and systematic failures within the NHS to identify and support carers, and a clear lack of understanding of caring being a social determinant of health.
"These issues will also be affecting the NHS workforce, where nearly one in three staff members provides unpaid care for an older, disabled or ill relative or friend, not as part of their work," it said.
It recommended that the NHS ensure there is mandatory training for frontline professionals to ensure they are able to identify, signpost and support carers.
If you a carer of someone with epilepsy, Epilepsy Action has support available: www.epilepsy.org.uk/living/for-carers