Epilepsy Action has said it is "alarmed at the worrying lack of progress" the government has made in the last two years, following the safety review published two years ago today by Baroness Cumberlege in 2020.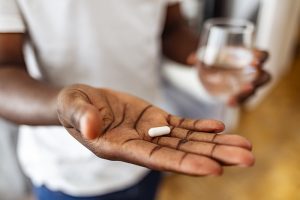 The Independent Medicines and Medical Devices Safety Review acknowledged major failings in the health system around three separate healthcare scandals, dating back decades, including around the medicine sodium valproate.
Over many years, women took sodium valproate for conditions including epilepsy, without being made aware of the risks to unborn babies if taken during pregnancy. The organisation said this has led to years of "avoidable suffering" for families affected.
Sodium valproate can be a very effective medicine for epilepsy, and may be the only one that works for some women. However, women need to be made aware of the risks so they can make an informed choice.
The report made a series of recommendations, some of which the government is still considering, two years on, and others which have been rejected. This includes a redress scheme to "meet the costs of providing additional care and support to those who have experienced avoidable harm". Other recommendations that have been rejected include creating specialist centres for people affected by sodium valproate.
The government has made recent progress on one of the nine recommendations, appointing a Patient Safety Commissioner. However, the charity says this new role "will do nothing to help families that have already been harmed by valproate".
Alison Fuller, Director of Heath Improvement and Influencing at Epilepsy Action, said: "Families who live with the impact of taking sodium valproate in pregnancy often have to meet the costs of the additional care and support their children need. Some of these children are now adults with even more complex needs.
"As the cost-of-living crisis deepens, it is more vital than ever they receive the financial redress they deserve. We urge the government to reconsider its position on this.
"Much more needs to be done to ensure women with epilepsy are aware of the risks of the medication they are taking. Every woman must have access to specialist preconception counselling. It is also unclear whether the risks posed by other medicines are being properly communicated to health professionals and women with epilepsy.
"It is crucial that women do not stop taking their epilepsy medicines without talking to a healthcare professional first. Any woman who is concerned about any of the issues discussed should make an appointment with their doctor.
"We cannot be having these same conversations another two years down the line. The government needs to show that it is taking patient safety seriously and the patient safety commissioner must now step up and prove they are committed to this issue as a priority.
"We will continue to seek assurances from all parties involved to ensure they implement the report recommendations and maintain patient safety and quality of service. Past mistakes must never be repeated."