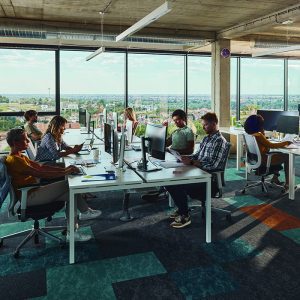 Disabled workers are more likely to be low paid than non-disabled workers, according to the Trade Unions Congress.
The union's analysis claimed 7 in 10 (69%) disabled employees earn less than £15 an hour.
It added that half of non-disabled employees (50%) earn less than £15 per hour.
The TUC claimed that in the north east of England and Wales more than nine in 10 disabled employees earn less than £15 an hour, compared to around three in five non-disabled workers.
Previous research from the TUC showed that people with epilepsy in work are paid 11.8% less on average than non-disabled workers.
People with epilepsy have one of the worst rates of employment among disabled people. More than a third (42%) of people who identify epilepsy as their "main" health condition are in employment. The employment rate among the general population is 76%.
Epilepsy Action volunteer Murray works for the Royal Mail and Parcelforce. His company has been supportive, but he has heard from friends and other volunteers with epilepsy about the discrimination disabled people face in the workplace.
"I've heard people saying they were dismissed because they had a seizure at work. I was shocked at some of the things I heard," he said, adding: "I'm talking to someone at the moment who has two conditions covered under the Equality Act, who has just been dismissed. I'm trying to help them with advice, but they haven't got a union."
To better understand and improve employment for people with epilepsy, Epilepsy Action has launched an employment survey.
You can help us by taking part at: https://mcrbkba1yzj.typeform.com/to/UCsWsRsS?typeform-source=l.facebook.com