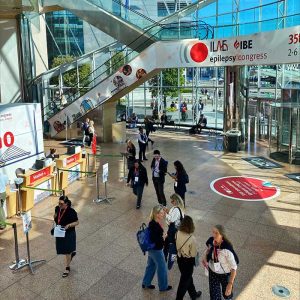 The International League Against Epilepsy (ILAE) held its annual international congress from September 2-6, in Dublin.
Epileptologists, patient groups and academics met to discuss the future of epilepsy research, patient care, treatment and diagnosis. The event was chaired by ILAE president J Helen Cross and International Bureau for Epilepsy president Francesca Sofia.
Presidential Symposium
Opening the symposium was Amber Freed, the founder of SLC6A1 Connect – a patient organisation she set up to find a cure for her son Maxwell's rare genetic epilepsy.
James Mitchell from the University of Liverpool then spoke about outcome measures in research. He explained how what researchers want from trials can differ from what patients want. His research also showed that the outcomes patients wanted to see were sleep quality, impact on driving and fertility.
Next to speak was Scott Demarest, professor of Pediatrics and Neurology at Colorado University, he covered the topic: are all epilepsies the same? "Of course not!" he said, adding that because of this, our aims from research and trials need not be the same.
Colin Josephson from the University of Calgary, Canada, joined the congress online, to discuss how artificial intelligence can help predict the outcomes of epilepsy surgery. He discussed whether could computer programmes could assist experts when deciding whether to send patients with temporal lobe epilepsies for surgery.
The last person to speak was Action Amos. He spoke about the difficulties of engaging national governments and healthcare providers with epilepsy professionals, adding that just 2.5% of research budgets globally went to low and medium-budget countries.
Other topics included:
Could AI diagnose and treat epilepsy?
Should epilepsy specialists be prescribing exercise?
Should cannabis-based medicines be more widely available?
Epilepsy and anxiety
Music and EEGs
At the conference's exhibition, Nigel Osborne, a composer, academic and aid worker, explained X System, an initiative he has co-founded.
To read more about the ILAE congress download the latest version of Epilepsy Professional magazine. https://www.epilepsy.org.uk/involved/join/epilepsy-professional-magazine