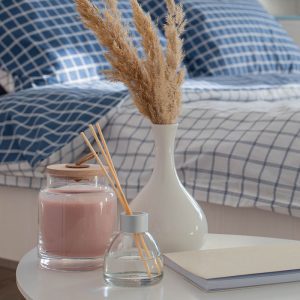 Researchers studying the effect of essential oils on the brain have found that inhaling certain scents during sleep could lead to a boost in memory.
The study at the University of California followed 43 healthy men and women aged between 60 and 85. They were split into an exposed group and a control group.
The exposed group was given seven different scents a week, one per night, for two hours, using an essential oil diffuser.
The results showed a 226% improvement in the group inhaling scents compared to the control group. Other measures of learning and thinking ability showed no improvement.
The researchers concluded that introducing a small amount of scent at night led to improvements in brain functioning. They added that this may provide an effective and low-effort way to improve memory.
They suggest the reasoning behind the results could be because the olfactory system (sense of smell) has direct links to the limbic system (behavioural and emotional responses in the brain – including memory).
Speaking to Medscape, Donald Wilson, professor of child and adolescent psychiatry and of neuroscience and physiology in New York, said it was "a very exciting, though relatively preliminary, finding".
The paper's authors said they hoped the findings would lead to large-scale clinical trials, so that the results could be used to help patients in future.
As people with epilepsy are at a higher risk of experiencing memory problems, any research into potential treatments or complementary therapies that could improve memory is exciting. Unfortunately, the study did not consider people with neurological conditions, such as epilepsy.
Some essential oils are not recommended for people with epilepsy as they could make seizures more likely. These include rosemary, sage, thuja, cedar, hyssop, eucalyptus, camphor, pennyroyal, fennel and spike lavender. For more information: www.epilepsy.org.uk/info/treatment/complementary