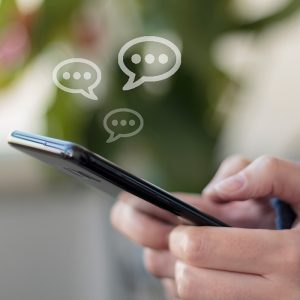 Epilepsy Action's Live Chat service, recently piloted by the helpline team, has become a permanent offering following a successful launch last Autumn.
During the pilot, 96.4% of respondents said they were happy with the advice and information they received.
The Live Chat service dealt with more than 1,500 chat enquiries in the first half of 2023 – a 12% increase in enquiries dealt with compared to the same period in 2022.
Live Chat was introduced to meet the changing needs and preferences of service users.
Information from the Helplines Partnership suggests 62% of people visiting a website from a mobile now expect a live chat service to be offered, with only 15% of 16 to 24 year olds viewing phone calls as the most important means of communication.
One anonymous user said: "I was surprised how quickly someone responded to my message. The agent was very helpful and understood my situation, was empathetic and did well helping me with advice and sharing some knowledge I never knew about. I have left the chat wiser and more positive."
Another said: "Wow what a service. It's all new territory for us with our daughter having just been diagnosed and I can't thank you enough for a fast, user-friendly, knowledgeable service that provides the information and support needed."
A survey of Live Chat users found 76% felt more informed after speaking to Epilepsy Action and 70.5% felt empowered to act following the conversation.
Survey respondents gave the service an average 4.6 out of 5-star rating. The rating improved over the course of the pilot, from 4.3 in December to over 4.9 in March.
Commenting on success of the pilot, Epilepsy Action's advice and service improvement manager Tom Beddow said the next steps for developing the project included training all helpline staff on live chat and trialling offering it at the weekend.
Tom said: "Our helpline team at Epilepsy Action is here to support as many people as possible by offering a service that meets the wide-ranging needs of people affected by epilepsy. The increase in the number of enquiries we received during the trial period of the new helpline live chat shows that there is a clear demand for this service, and we're delighted that this new offering has helped us to reach more people who need our support.
"The live chat tool allows us to respond to people quickly and efficiently while delivering high-quality advice, information and empathetic support to those who need it most. We're pleased that following such a successful pilot, the helpline team will continue to deliver and further develop this important service."