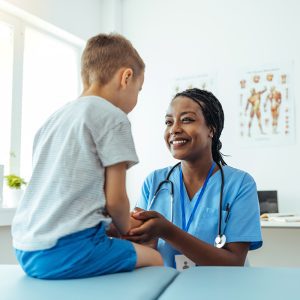 A report from NHS England, supported by Epilepsy Action, has made a number of recommendations to improve care and outcomes for children and young people with epilepsy.
NHS England's Children and Young People's Transformation Programme includes guidance for Integrated Care Boards (ICBs). ICBs are NHS organisations responsible for planning and budgeting health services in a particular geographical area.
The recommendations include:
Addressing variation in care between epilepsy services
Supporting the mental health and wellbeing of children and young people with epilepsy
Improving referrals into tertiary services and the Children's Epilepsy Surgery Service
Improving the transition from paediatric to adult epilepsy services.
The recommendations were developed using data from Epilepsy12 – a national audit focussing on children's epilepsy services – and are aligned to guidance from NICE (NG217 & QS27).
Epilepsy Action's director of health improvement and influencing Alison Fuller said: "It has been fantastic to work alongside Young Epilepsy to help develop these key recommendations, which have been announced by NHS England. These recommendations are essential to ensure that children and young people with epilepsy receive the best possible care and can access the support they need.
"Findings from the Epilepsy12 report showed improvements in many aspects of epilepsy services for children and young people, however there were clear areas that needed improvement. These recommendations will help to close the gap on regional disparities in epilepsy services, improve mental health support for children and young people with epilepsy, and will ensure that they experience joined up care across the services, and when transitioning from paediatric to adult care.
"We hope these recommendations will help to improve services for children and young people so they can receive the comprehensive and harmonious care they deserve."
The report claims that implementing the recommendations would reduce the overall costs of delivering care by reducing unplanned hospital admissions, appropriate referral into hospital services and supporting early identification of comorbidities.
This programme of work has been supported by children and young people diagnosed with epilepsy, their families and a number of organisations including the charities Epilepsy Action and Young Epilepsy.
The report encourages ICBs to develop improvement plans in line with the recommendations, identify gaps in services by focusing on the provision of epilepsy specialist nurses, and ensure that children and young people receive timely access to appropriate EEG and MRI investigations with clearly defined waiting times.
One anonymous young person quoted in the report said: "Having access to an Epilepsy Specialist Nurse would really help with communication and make it easier to get in contact with a [healthcare] professional."
The report also recommends that all children and young people who meet the criteria for tertiary neurology referral and surgery should have timely access to specialists.
It adds that all children and young people should have an agreed and comprehensive care plan and that all children and young people, as well as parents and carers, should receive personalised and appropriate information on the risks of sudden unexpected death in epilepsy (SUDEP).
Another anonymous young person quoted in the report said: "I have never had a conversation with a healthcare professional about Sudden Unexpected Death in Epilepsy. You end up looking on the internet and doing your own research and using social media to find information."
Another said: "Care plans would be really helpful for parents and educational settings, it would reduce the amount of explaining you would have to do when attending school."
The report also calls for improvements in the provision of mental health care. It says all children and young people with epilepsy over the age of five should have their mental health screened routinely. And those identified as requiring additional support should be referred to an appropriate service.
To improve the transfer of care from paediatric to adult neurology, the recommendations include designating a named worker who is responsible for initiating and planning that transition, as well as ensuring the transfer is developmentally appropriate and at a time of "relative stability".
Speaking about their transition from paediatric to adult epilepsy services, one anonymous user said: "Paediatric care was amazing, but there wasn't a transition period. One day I was just handed off to a new service with no idea who I was seeing or what these people were like."