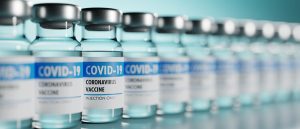 The Department of Health and Social Care is urging those eligible to get their COVID-19 booster vaccine this winter.
Everyone aged over 50 years will be offered the COVID booster vaccine, alongside anyone aged 5-49 years who is in a clinical risk group, including people with epilepsy. This will increase protection from the virus over the winter.
Daniel Jennings, senior policy and campaigns officer at Epilepsy Action, said: "COVID-19 continues to have a significant impact on all our lives and it's important we continue to protect ourselves – and others – from coronavirus. We are joining forces with other charities to urge people in priority group 6, including those with epilepsy, to get the COVID booster vaccine this winter.
"Studies have shown that people with epilepsy could have a slightly increased risk of being admitted to hospital or dying from coronavirus. A key part of beating the virus and keeping people safe is through vaccinations.
"This is why it's so important that people with epilepsy who have already been vaccinated get the booster to help give them the best possible protection throughout the winter and beyond.
"It's important to remember that the vaccines that have been approved for use in the UK have met the strict safety standards set by the medicines regulator. They have also been deemed safe for people with neurological conditions including epilepsy by the Association of British Neurologists."
There is more information on the UK government website.