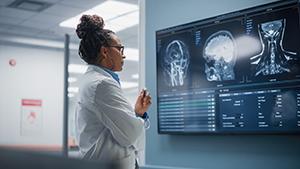 The UK Epilepsy Priority Setting Partnership (PSP) announced in October the top ten priorities for epilepsy research, developed following a nationwide project.
The PSP comprised Epilepsy Research UK, the James Lind Alliance and the National Institute for Health and Care Research (NIHR), who worked on the project over the last 18 months.
They used surveys and workshops to get the input of people with epilepsy, their friends and families and health professionals to identify issues of highest priority. People with epilepsy made up the majority of the survey responders (55%).
The top ten research priorities the team established cover themes including epilepsy-related deaths, the underlying causes of epilepsy, women's health and epilepsy, and drug-resistant epilepsy.
UK epilepsy PSP leader and consultant neurologist, Dr Rhys Thomas, said: "The top ten research priorities for epilepsy will help shape the research agenda for the next generation.
"We know that PSPs can lead to increased funding, which is so urgently needed for epilepsy, given the shocking inequalities in research funding."
Tom Shillito, health improvement and research manager at Epilepsy Action, said: "It's fantastic to see that the voices of the epilepsy community have been front and centre of setting important research priorities in the UK.
"Having their views, along with those of their carers and health professionals, means we're moving in the right direction towards research that will ultimately be directly beneficial to them.
"The top ten will also lead to different research studies for each priority, which will mean we have an even wider bank of research evidence to build on in the future."
There is more information on the Epilepsy Research UK website.
The top ten research priorities from the PSP