The Welsh Senedd has been urged to reduce waiting times for epilepsy services and improve staffing levels.
Luke Fletcher, member of the Senedd for South Wales West, brought the motion to the Senedd and it was passed without opposition.
Seven members of the Senedd spoke in favour of Luke Fletcher's motion. They highlighted the lack of epilepsy specialist nurses across Wales, the difficulties people with epilepsy face accessing treatment due to under-resourcing and waiting times, and the prevalence of epilepsy in Wales.
The debated motions were:
To support measures to reduce current waiting times for patients and service users accessing epilepsy services.
To support health professionals in Wales, by ensuring the levels of staffing across the health boards of Wales are appropriately resourced to achieve and maintain sustainability, patient safety and quality of service.
Fletcher said: "In Cwm Taf Morgannwg University Health Board, it is estimated that five epilepsy specialist nurses are needed. There are currently zero. In Swansea Bay University Health Board, it is estimated that 11 are needed. There are, in actual fact, only four."
He added: "I'd like to thank Epilepsy Action Cymru for consistently raising the concerns of those who live with epilepsy with myself and with other members."
The debate
The motion was backed by members including Tom Giffard member for South Wales West, Mike Hedges, member for Swansea East, and Delyth Jewell, member for South Wales East and deputy leader of Plaid Cymru.
Giffard said: "NICE suggests that waiting times for routine epilepsy appointments should take no longer than a fortnight, but the reality is that not one health board in Wales is meeting that target."
He added: "We're spending just £21 per person on epilepsy research, compared to £97 for dementia and £234 for Parkinson's disease."
Jewell said: "It's a sad reality that, in 2023, the provision of care for people living with epilepsy is inadequate."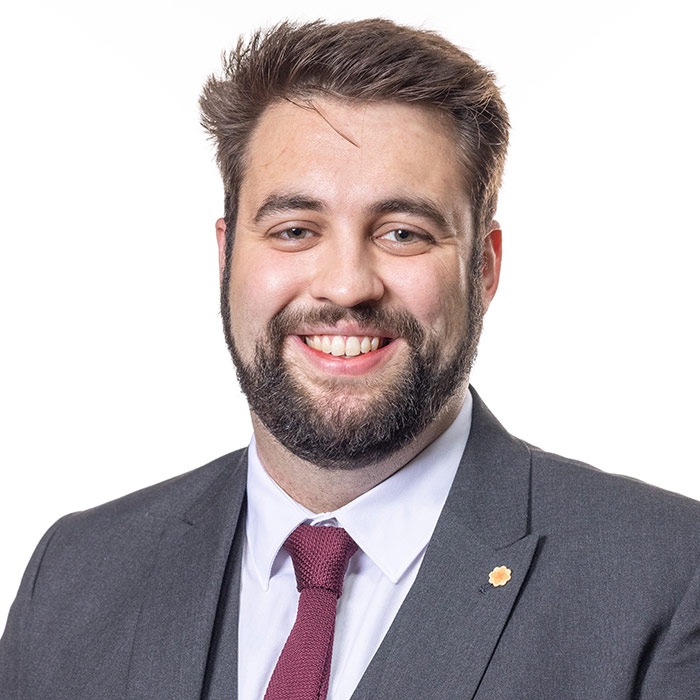 "I'd like to thank Epilepsy Action Cymru for consistently raising the concerns of those who live with epilepsy with myself and with other members."
Luke Fletcher
In response to the motion, health minister Eluned Morgan outlined some of the work the Welsh government had been doing, but also acknowledged the financial pressures the NHS is under.
She said: "I've noted the recommendation from this report of a ratio of 300 patients to one epilepsy specialist nurse, which would equate to a requirement for another 95 whole-time equivalent epilepsy specialist nurses in Wales. I've got to tell you we are in a time of financial difficulty.
She added: "We know that the NHS is facing multiple challenges, and I don't underestimate these. We've set out clear aims within the neurological conditions quality statement.
"It's now the responsibility of the health boards to plan and deliver their services accordingly."
Hedges spoke about his experience of epilepsy. He said: "Until my mother had a brain tumour, I had no personal experience of epilepsy. Her brain tumour led to epilepsy, and it came as a shock to our family and to her.
"When it's actually somebody who you know and love going through it, it brings it home. It certainly brought the problem of epilepsy into focus for me."
Moving forward
Closing the debate, Fletcher asked for a meeting with the Welsh health minister, which she agreed to. He said: "It's welcome very much to hear the government will continue supporting epilepsy services.
"I would welcome the opportunity to meet with the minister after this debate. I appreciate that this is a really complex field of medicine, and the difficulty she will have in conveying everything in the time that she has in the chamber."
Epilepsy Action's senior policy and campaigns manager Daniel Jennings and Wales manager Jan Paterson were on the steps of the Welsh Senedd before the debate. They spoke to members about the motion and issues around epilepsy care.
The motion was based on Epilepsy Action's Epilepsy Service in Wales report.
Welsh campaign
Support our Wales campaign
Epilepsy Action are campaigning for better services in Wales, find out more by clicking the link below.
Our campaign