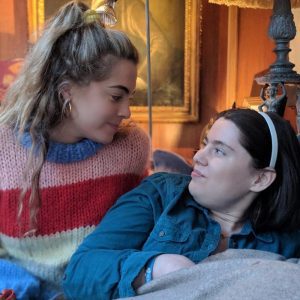 The story of two sisters with epilepsy has been made into a documentary, directed by Caroline Sharp and distributed by production company Fremantle.
The story will follow Chelsea and Tamsin Leyland who have drug-resistant epilepsy.
The makers described the documentary as "the story of two sisters, one condition, and hundreds of years of stigma".
Chelsea is a model and DJ who has previously campaigned with the Epilepsy Society.
According to Chelsea, Tamsin has a more severe form of epilepsy and mild autism.
Called Sisters Interrupted, the documentary will be premiere at London's Raindance Film Festival on November 1.
It is produced by Captum Productions and Docsville Studios.
Director Sharp said: "Our mission was to create a beautiful, human, and relatable piece of film that spoke to wider themes of family love, human fear, and loving support while also highlighting the condition.
"We hope that through exposure to the condition, our audience can connect and feel compassion while also gaining some understanding of how to help and interact in the real world should they experience someone with epilepsy in need of their support.
"There is woefully little media around the condition, so we hope that this film can serve to provoke conversation, support those feeling shame and stigma into widening their support networks, and provide the sense to the wider community that you are not alone."
Chelsea, who lives in New York, has gained access to medical cannabis against her neurologist's recommendations, and has been seizure-free for six years. Based in the UK, Tamsin often suffers up to 70 seizures a day and is unable to access medical cannabis.
In 2017, Chelsea told Harper's Bazaar: "After I introduced CBD into my life, I noticed many of these negative side effects [of epilepsy medication] began to disappear".
Sharp added: "Our second objective was to highlight the medical injustices that face not just people with epilepsy, but many other conditions that have suffered from another type of stigma – that of cannabis-based medicine.
"We hope that this film draws attention to the serious nature of these medicines, and their potentially profound effects.
"We are not advocating for use of cannabis without medical support, but we are advocating for the medical community to take its potential impact, public support and irrefutable results as seriously as any other medicine."
Currently there is one cannabis-based medicine that has been approved for treating epilepsy in the UK, called Epidyolex. For more information go to: epilepsy.org.uk/info/treatment/medical-cannabis-based-treatments