As a media volunteer, I raised awareness on epilepsy through being interviewed by various media organisations including Sky Sports, Sky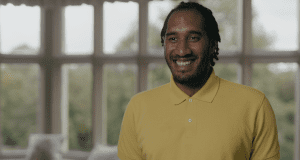 News, ITV, BBC Radio, and Talk Sport. My favourite media volunteer assignment had to be the campaign with the media team where I was doing various interviews with global media on epilepsy and work. I shared my story and the great support my employer at the time had given me to help me work and feel safe. I felt like a celebrity going from interview to interview that day with the PR team, it's my claim to fame!
My most recent role is a Talk & Support group volunteer at two groups which are in the process of reopening after COVID 19. I'm looking forward to bringing people living with epilepsy together whether they have the condition themselves or are a carer or parent. It will be a safe diverse multi-cultural group we can attend, and everyone can relate to each other. The group will be a place to talk, help and support each other through our lived experiences. I'm looking forward to also helping others and allowing everyone attending to be part of a community where they feel positive and know that despite having epilepsy, we are able to live a life where we can work and still do cool and exciting things.
I was motivated to start volunteering with Epilepsy Action as through living with epilepsy from such a young age I have lived experiences and wanted to be part of a team that is raising awareness and helping others who has the condition. Also, I know what it is like to be in situation where no one understands so me volunteering in numerous roles helps me to help others.
I think people with epilepsy benefit from my volunteering roles as they feel encouraged to be part of a group where they feel safe, aren't judged and they feel in a happy place. Through my previous media campaigns, I have received positive feedback that my story has given them the confidence to pursue a career and that they feel there is positivity towards those living with epilepsy.
I gain satisfaction from being part of a group of volunteers with a safe goal to help and support those living with epilepsy and educate others about epilepsy through our lived experiences.
If someone is thinking about volunteering for Epilepsy Action, I will say do it. It's great and there are many ways to volunteer. Especially as the smallest thing you can do you can have such a positive impact on someone's life.