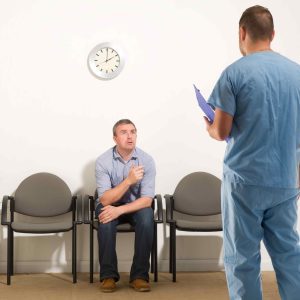 The Northern Ireland department of health will not be able to meet its waiting list targets due to a lack of recurrent funding, it has said.
It said even if the department received "new recurrent investment" it would not be possible to meet the targets, because "the deficit between demand and capacity has been going on for too long and the waiting list backlog has been exacerbated by the impact of Covid".
Epilepsy Action has heard from people who face a wait time of four years for an appointment.
Northern Ireland has the longest waiting times for neurology appointments in the UK.
The department's objectives were set in 2021 and are supposed to be met by March 2026. They include:
No one should wait more than 52 weeks for a first outpatient appointment and inpatient/day case treatment; or, 26 weeks for a diagnostics appointment.
The gap between demand and capacity for elective care will have been eradicated.
It said both targets were dependant on sustained funding.
Northern Ireland has the highest prevalence of epilepsy in the UK. 1 in 83 people have the condition.
A recent letter to Epilepsy Action from the Northern Ireland Office acknowledged waiting list times. The letter stated that unlike elsewhere in the UK, Northern Ireland has no government to take "necessary and decisive action".
Epilepsy Action policy and campaigns officer Jack Morgan said: "Urgent action needs to be taken to address waiting times. We are again repeating our call for political parties to break the current stalemate, restore power sharing and work together to address the problems facing people with epilepsy."
The Elective Care Framework is a five-year plan to clear the backlog of patients awaiting hospital treatment and close the gap between capacity and demand.
Northern Ireland
Our Northern Ireland campaign
If you'd like to share you're experiences of living with epilepsy in Northern Ireland, check out our campaign page.
Support our campaign