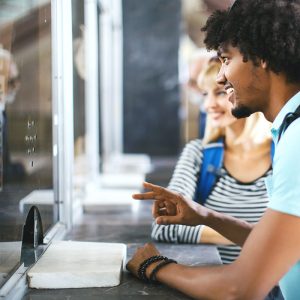 Proposals to close railway ticket offices have been scrapped following a campaign against the closures from charities and organisations including Epilepsy Action.
More than 70 groups representing disabled people and allies wrote a letter of objection to the government.
Epilepsy Action senior policy and campaigns manager Daniel Jennings said: "While we're certainly pleased to see ticket office closure plans will not be going ahead, this decision only comes after weeks of pushback that wouldn't have been necessary if accessibility was taken into account from the start.
"We have strongly opposed the measures since their announcement, alongside many other organisations representing disabled people and allies. Ticket offices are essential for people with a disability to find assistance and support when travelling. This is especially true for people with epilepsy who often rely on public transport due to not being able to drive.
"Ticket office closures would have compromised the safety of disabled people travelling on the rail network, so knowing they won't go ahead does represent a huge victory for everyone who supported the campaign to oppose them. However, we're hoping accessibility needs will be taken into consideration from the start as an integral factor for any future measures, and not as an afterthought."
Transport for All, the umbrella group behind the campaign, said it was a victory for campaigners but described the decision as "bittersweet".
Campaigns manager Katie Pennick said: "Today represents the best possible outcome – but it's not a step forward, instead we have resisted things getting worse. While we are proud of the incredible tenacity of disabled people and our community for securing this major campaign victory, the outcome is bittersweet. The disastrous and discriminatory proposals should never have been put forward."
She added: "Though the government was eventually swayed, it is appalling that disabled people's concerns were dismissed for so long. We can't help but wonder what we could achieve if disabled people were listened to and accessibility was prioritised."
According to the BBC, the government's transport secretary Mark Harper said it had asked train operators to withdraw the proposals to close officers because they failed to meet passenger standards.
Passenger watchdogs Transport Focus and London TravelWatch objected to the proposals following a public consultation. London TravelWatch said 99% of public responses opposed closing ticket offices.
For more information about transport benefits for people with epilepsy go to: www.epilepsy.org.uk/living/benefits