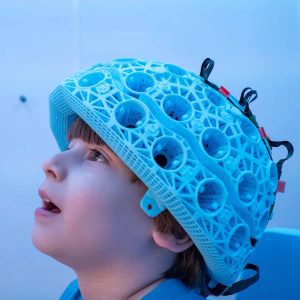 A wearable brain scanner that can measure brain function while the patient is moving has been developed at the University of Nottingham.
It is believed the scanner will improve epilepsy diagnosis, especially for children.
The first wearable brain scanner was developed in 2018, but researchers have now demonstrated that the system can be used while the patient is moving.
Epilepsy Action's health improvement and research manager Tom Shillito said: "This is an exciting advancement with the potential to improve epilepsy testing for many patients. MEG scans can be used in addition to EEG tests to obtain more detailed data about a patient's epilepsy, which can result in better treatment."
The technology uses optically pumped magnetometers (OPM) to measure magnetic fields in the brain – a technique called magnetoencephalography (MEG).
The lightweight helmet, which is 3D-printed, also means the scan is more comfortable for the patient.
Patients can access MEG scans through the NHS currently, but the testing process doesn't allow them to stand or walk around.
Young Epilepsy's Health and Research Centre installed the first scanner in the UK. It believes the technology can be used for earlier epilepsy diagnosis and interventions, and better management and treatments for patients.
Cerca Magnetics is the commercial company that produces and sells the scanners. It is working towards gaining clinical approval to allow them to be used in clinical settings.
The University of Nottingham's study lead Niall Holmes said: "We can, for the first time, realise many scanning scenarios that would have previously been considered impossible, but that have the potential to significantly expand our understanding of exactly what is happening in the brain during movement, neurodevelopment and in a range of neurological issues."
The Nottingham team designed a 'matrix coil' system, which is formed of 48 simple square coils.
Professor Matt Brookes, who leads MEG research at Nottingham University, said: "Just five years ago, the idea of acquiring high resolution images of human brain electrophysiology while people walk around a room would have seemed like something from science fiction. The matrix coil has made this a reality."
In a research paper outlining the development, the authors said: "As systems continue to develop, and the range of allowed experiments continues to expand, OPM-MEG has significant potential to become the method of choice for functional neuroimaging."
Shillito added: "One of the most interesting aspects of this new technology is its wearability. A wearable device that gives the patient freedom to move around while the test is being carried out would make the whole process much more comfortable.
"This could be especially beneficial for children with epilepsy. Cheaper, more accessible, and more accurate MEG technology could lead to this type of test being adopted more widely in the UK. This could mean better, more comprehensive information about a patient's epilepsy, which in turn opens up possibilities for surgery eligibility and more targeted treatment."