Should I declare my epilepsy before I have a beauty treatment?
Some people are told they can't have a particular beauty treatment because of their epilepsy. But most of the time, there's no reason you shouldn't have access to the same treatments as anyone else.
You don't have to tell the salon about your epilepsy, if you don't think it's relevant. But if you think you might have a seizure during the treatment, it's a good idea to let the therapist know.
You could discuss any possible risks of the treatment, and let the therapist know how to help you if you have a seizure.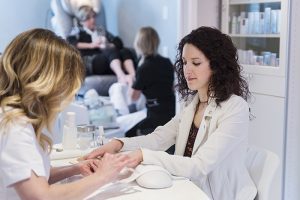 Can a therapist or salon refuse to treat me because of my epilepsy?
The equality laws in the UK protect you from being treated unfairly because of your epilepsy. This includes access to goods and services.
Refusing to treat you because of your epilepsy could be discrimination under the equality laws.
Can certain beauty treatments trigger seizures?
What can I do if I feel I've been treated unfairly?
If a salon or therapist refuses to treat you, ask them why. They might have been taught that certain treatments are unsuitable for people with epilepsy. But often this is down to not really understanding the condition.
For example, some therapists believe treatments involving light are unsuitable for all people with epilepsy. This may be due to a mistaken belief that all people with epilepsy have seizures triggered by flashing or flickering lights. If you don't have photosensitive epilepsy, you could explain this to the therapist. And if you do have photosensitive epilepsy, you may be able to reduce the risk of a seizure by wearing black-out goggles.
The therapist might have concerns about what to do if you have a seizure during the treatment. If this is the case, you could explain how they can help you. It might help to show them our first aid information.
If you've talked to the salon and they still refuse to treat you, this could be unlawful discrimination under the equality laws.
The following organisations can give further advice about possible discrimination:
Equality Advisory and Support Service (England, Scotland and Wales)
The Equality Advisory Support Service gives free advice, information and guidance to individuals on equality, discrimination and human rights issues.
Tel. 0808 800 0082
The Equality Commission (Northern Ireland)
The Equality Commission provides advice and information about the Disability Discrimination Act in Northern Ireland.
Tel: 028 90 500 600
Was this article helpful?
Sign up for the latest updates from Epilepsy Action
"*" indicates required fields