Pregnancy and epilepsy
Having epilepsy means there are some extra things to be aware of when you're pregnant. On this page we look at the issues around seizures and pregnancy. We also identify things you can do to reduce the risks for you and your baby.
What would you like to find out today?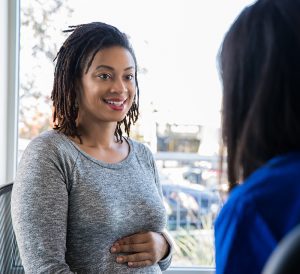 Now you are pregnant
Contact your GP as soon as you find out you are pregnant. They can arrange speedy referrals to healthcare professionals such as a midwife, obstetrician, neurologist, epilepsy specialist nurse or doctor. To help with this process, the epilepsy maternity toolkit can be downloaded from: womenwithepilepsy.co.uk/pregnancy-toolkit
As you will be supported by a number of different healthcare professionals, the toolkit should list emergency contact details of your team. It should also have a summary of your epilepsy, treatment, and your management plan.
Seizures during pregnancy
Around one in every three women with epilepsy have an increase in seizures during their pregnancy. This can be due to things like their type of epilepsy, whether they are taking their medicine as prescribed, or lack of sleep.
Some women might have seizures because the level of their epilepsy medicine in their blood changes during pregnancy. So, your epilepsy specialist is likely to recommend that you have regular blood tests if you are taking certain epilepsy medicines. If the level of medicine in your blood changes, your doctor may adjust your dose. It's up to you to decide whether you want these blood tests.
If your seizures change while you are pregnant, ask your GP or epilepsy specialist for an urgent review of your epilepsy medicine.
Taking your epilepsy medicine during pregnancy
It's important not to stop taking your epilepsy medicine during pregnancy, unless your doctor advises you to do this. If you suddenly stop taking your medicine, it could cause you to have more frequent or more severe seizures. It could even put your life at risk.
Some epilepsy medicines can cause problems if used during pregnancy. It's important to be aware of the risks for your medicine and to get medical advice about your treatment as early as possible.
Epilepsy Action has more information about epilepsy medicines and their individual levels of risk.
If I have seizures during pregnancy will it harm my baby?
During a tonic-clonic seizure your baby could get less oxygen in the womb. This could be harmful to your baby, particularly if you have frequent tonic-clonic seizures, or have status epilepticus. Tonic-clonic status epilepticus is when a tonic-clonic seizure lasts for five minutes or more, or when you have one tonic-clonic seizure after another without regaining consciousness in between.
Some seizures, particularly tonic-clonic seizures, can put you at risk of injury. A significant injury to your abdomen could cause bleeding or your waters to break. Although the risk is low, this could lead to infection and early labour.
Epilepsy Action has more information about seizure types and status epilepticus.
Ways to lower the risks of having seizures when you are pregnant
You might not notice a change in the number of seizures you have during your pregnancy – most women don't. But here are some ways you might lower the risk of having seizures:
Keep taking your epilepsy medicine exactly as prescribed by your doctor
If you have sickness and can't keep your epilepsy medicine down, speak to your GP or epilepsy specialist nurse as soon as possible
Talk to your GP, epilepsy specialist or epilepsy specialist nurse about any seizures you have. They might be able to make changes to your epilepsy medicine, to try to reduce your seizures
Try to get enough rest and sleep. Some people are more at risk of having seizures if they are tired, or haven't had enough sleep
Could pregnancy be dangerous for me?
Most women, including women with epilepsy, have healthy pregnancies. But in all pregnancies, there's a very small risk that the mother could die. If you have epilepsy, this risk is increased during pregnancy and in the 12 months following pregnancy. There could be many reasons for this including having a seizure due to lack of sleep, or missing epilepsy medicines.
Missed epilepsy medicines can lead to uncontrolled seizures, which can lead to sudden unexpected death in epilepsy (SUDEP).  Uncontrolled seizures can also increase the risk of death through accidents, such as drowning. For anyone who has seizures, there are ways to reduce the risk of drowning while bathing:
Have a shower instead of a bath – it's safer because the water runs away
If a shower isn't possible, keep the water depth shallow and turn off the taps before you get in or
Don't put the plug in, but sit in the bath with the water running from the taps or a shower attachment
Have a bathroom door that opens outwards, or folds or slides open and closed. Then, if you fall against it during a seizure, you won't block someone from getting in
Epilepsy Action has more information about SUDEP and safety.
What scans and tests will I need during pregnancy?
You might not need any extra tests while you are pregnant, just because you have epilepsy. But if your doctor thinks you are at risk of more seizures during pregnancy, they may suggest you have extra blood tests to check the levels of medicine in your blood. This is particularly recommended if you take carbamazepine, lamotrigine, levetiracetam, oxcarbazepine, phenobarbital or phenytoin. Research has shown levels of these medicines can decrease during pregnancy, making you more at risk of having seizures.
You will be offered a dating ultrasound scan between 8 and 14 weeks and a scan between 18-21 weeks to take a close look at your baby and your womb. Otherwise, you will be assessed on an individual basis, to see if you need further scans or monitoring.
It's up to you whether you want to have screening tests to check your baby's health and development. You might choose to have all the tests, or to have some tests, but not others. The screening tests occasionally identify an abnormality which needs further investigation to check on what impact it will have on your baby's life. If this happens, the doctor will give you all the information you need to help you make decisions about what to do next.
If you need further support, or help to make decisions, the maternity team will tell you about the most appropriate support groups or services available.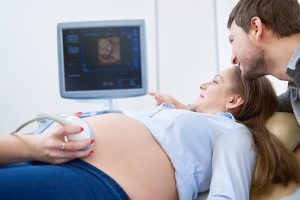 Was this article helpful?
Here to support you
Call the Epilepsy Action helpline
If you would like to talk to someone about epilepsy, our trained advisers are here to help.
0808 800 5050
Send us your question
Send a question to our trained epilepsy advisers. (We aim to reply within two working days).
Contact us today
Sign up for the latest updates from Epilepsy Action
"*" indicates required fields